Regular price
€67,00
Sale price
€56,90
Unit price
per
Sale
Sold out
One different BDSM spanking paddle among the imaginary variety that market offers. This 100% Leather covered Heavy-duty spanking paddle looks amazingly innocent and sweet (if you're a fetishist probably you would like to lick it), but its appearance should not delude you – you have a professional tool in front of you, that can burst into tears the most arrogant spankee. Under the sleek leather cover of this smooth & shinny fetish paddle you won't find the foam lining, but hard wooden body that is capable of inflicting the full range of strikes - from soft heating spankings to deep shaking strikes with rising intensity that will bring out the tears of remorse on your sub's face.
Three-layered structure perfectly absorbs the hits, the handle, ergonomically designed in the best traditions of EspressivoClub, provides secure and comfortable grab for better control of your movements. Using this tool is not only easy but rather safe. The smooth even surface of this BDSM spanking paddle combined with leather covered edges reduces the risk of unwanted injuries while the heaviness of this product allows you to deliver strong deep hits with minimal visible effect on the surface of the skin. Thanks to the leather cover and special three-layered structure even the harshest and merciless strikes that leaves your partner breathless will leave short-termed marks on the surface of the skin that will fade after 15-20 minutes – the key feature of every well-made tool, if the discretion is important for your plays (tested in our practice and guaranteed by us!).
The size of this Spanking paddle – 330 mm Х 80 mm Х 24 mm make it perfect – not too large, not too small. The first thing that you will notice is its weight – its 310 g make it heavy tool and you really have a first-class Heavy-duty BDSM Paddle. The next thing that you will realize is the balance between the handle and the body that really amazes with the easiness of the movements. Calculated to the parts of the millimeter ratios into the dimensions of this tool will bring you to the Golden Ratio in geometry.
The most exciting feature of this 100% leather covered Red BDSM Spanking Paddle is the whistling sound it makes when you swing it (this sound will make your spankee shake even before you land it on him/her) and amazing spank you will hear with every strike on naked and defenseless butt of your partner.

Share
View full details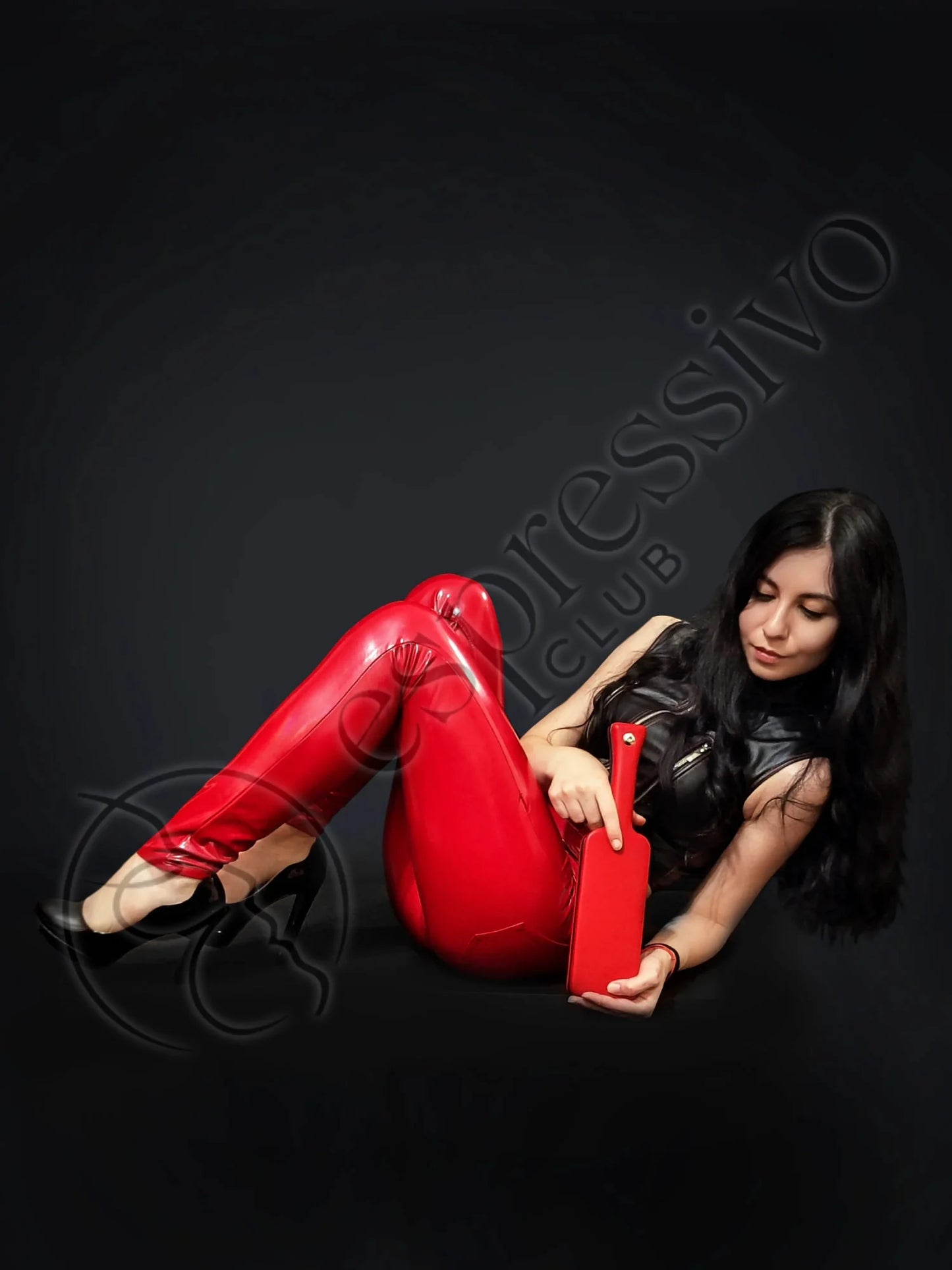 Highlights
Material

- light-weight wooden material

- marine grade artificial leather (resistant to abrasions, UV light, stains, water and blood)

- stainless steel screw
Care instructions

- Wipe with soft cloth soaked in mild detergent, then wipe with dry cloth
- Do not bleach