Regular price
€98,00
Sale price
€88,20
Unit price
per
Sale
Sold out
Hardly any other spanking tool is as popular as the leather strap created by R.Philp & Son in 1884 for use in Scottish schools as a disciplinary tool. Known as 'Lochgelly Tawse', 'Scotland Tawse', 'Spanking Tawse' or simply 'The Tawse', this forked narrow and flexible spanking belt made from black vegetable tanned leather is unmistakable. It is the most widespread and probably the worst copied of all punishment tools that have historically emerged.
We usually avoid making replicas of antiques, because their legendary effectiveness is often due not to particular shape or construction (which are usually the result of random factors) but to the cruelty with which they were used (you can just as well also serve yourself with simple club). However, the product created by R.Philp & Son is so well thought out that you would be mistaken if you describe it as just another spanking strap.
What's so special about our version of the classic The Lochgelly Tawse?
First of all, we have tried to preserve the original shape of the product, taking into account its use as a spanking tool in BDSM practice. It is usually omitted, but The Lochgelly Tawse was used in Scottish schools for striking the palms, sometimes using the handle for this purpose. In BDSM practice, however, spanking straps of this type are commonly used to spank the buttocks, breasts (especially for women), and with caution spanking the feet.
Keeping in mind these features of modern use, we designed our Two Tail Lochgelly Tawse spanking strap with an overall length of 54cm (21") and a leather thickness of 8 - 9mm. (⅓"). The two Tails (the Tawse in Scots) are 31 cm (12 ¼") long and reach almost to the handle, which greatly increases the flexibility of the product, while on most The Tawse the split of the strap does not exceed 21 - 23 cm (8 - 9") and has more psychological effect.
The original The Lochgelly Tawse was not designed for spanking and the handle ergonomics are terrible when used with a standard grip. We have changed its shape and shortened it to make it not only more comfortable to hold, but also more stable during really intensive use of the product. In addition, we have additionally strengthened the handle by adding 2 more layers of the same thick leather, firmly glued and sewn to the main one, obtaining a total thickness in handle area of ​​1.4 - 1.5 cm. (⅔"). The double-reinforced handle not only provides exceptional stability to the product as a whole, but also makes it extremely comfortable during intense spanking. A leather cord threaded through a hole in the handle completes the overall look of the product, allowing you to carry this ultimate BDSM paddle through wrist, clip it to your belt or put it on a wall hanger. In its original version, The Lochgelly Tawse has no cord, just a hole to attach to a simple nail on the wall (to command respect among students).
Among other things, our Two Tail Lochgelly Tawse spanking strap comes with perfectly shaped edges, rounded off and polished by hand using a vegetable varnisher and great care. The original The Lochgelly Tawse is a mass-produced piece and as such is usually only roughly polished, and in some versions it is made without polishing at all.
We could go on and on about our version of The Lochgelly Tawse spanking strap, but the best thing you can do is try it. The shape, the material, the craftsmanship - every element of this product, in which we have invested our many years of experience in working with leather, promises you cruel and exciting discipline moments for you and your submissive. And remember, this item is specifically made to hurt.

IMPORTANT: It can leave marks on the skin of your slave or submissive, which will disappear gradually in the following days. Use with increased severity, but responsibly!
Occasions:
hard spanking

corporal punishment
domestic discipline

impact play

obedience training

Share
View full details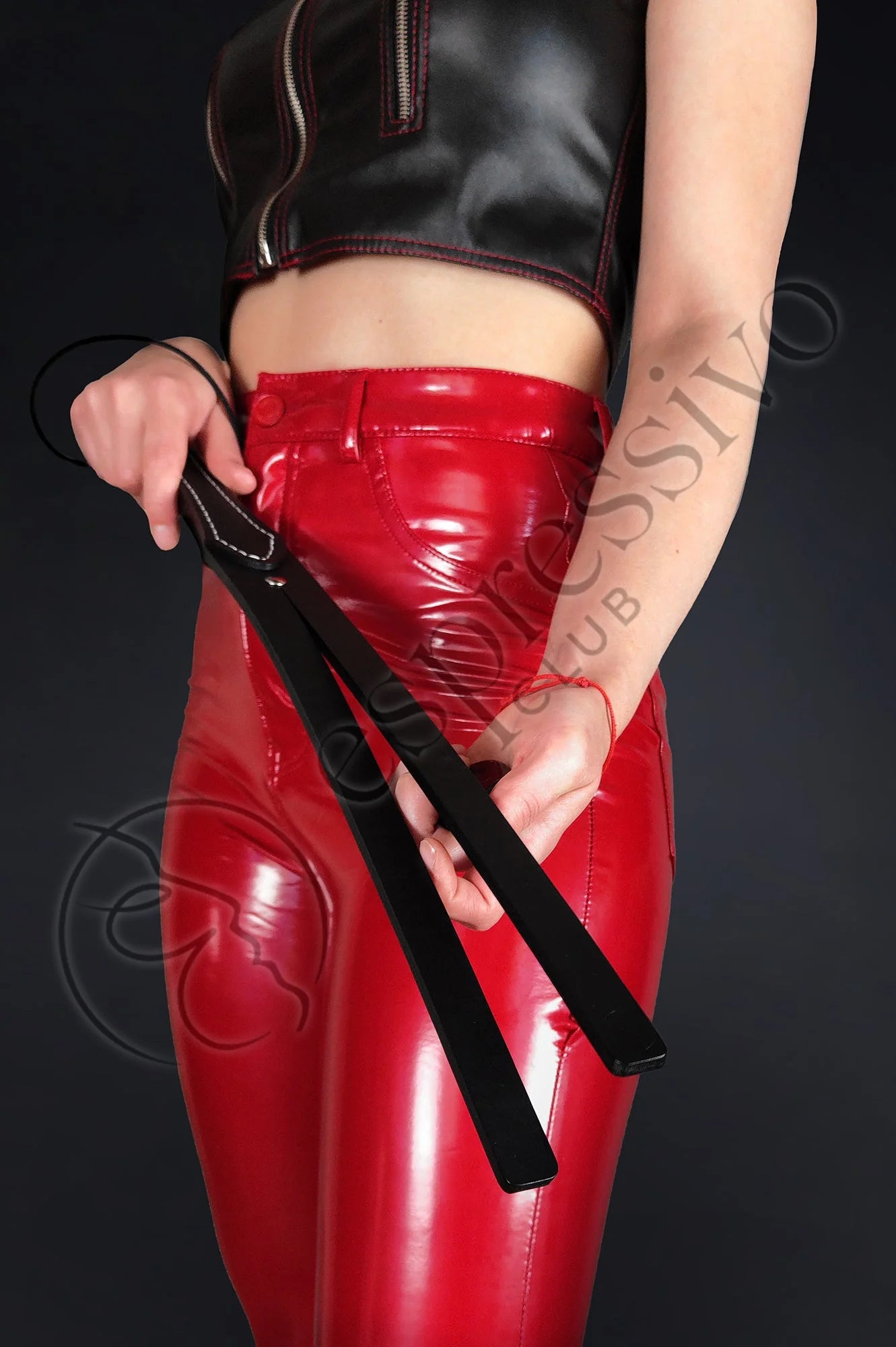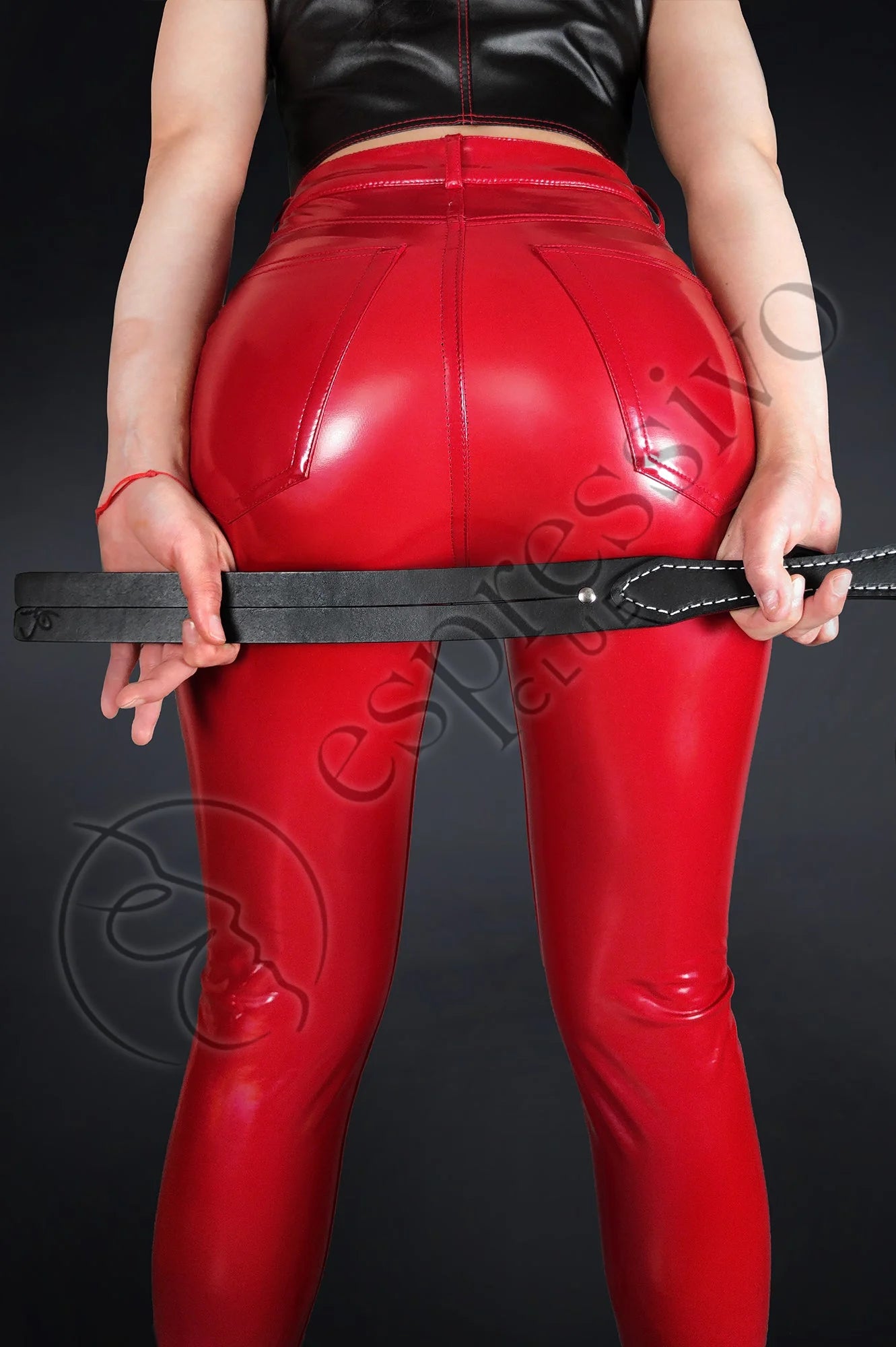 Highlights
Material

Vegetable tanned full grain bovine leather
Care instructions

- Wipe with soft cloth soaked in mild detergent, then wipe with dry cloth
- Do not bleach